The Entrepreneurial Operating System® (EOS®) is for those ready to experience clear vision, gain consistent traction, and advance as a healthy, cohesive team.
Learn More
The first step towards experiencing vision, traction and healthy with your team is a 90 Minute Meeting to see what EOS is and how it works.
Request Meeting
Share EOS tools and disciplines with your business, professional organization, or roundtable group with a customized speaking engagement.
Book a Talk
EOS is simple,         not easy.
Master the content.
EOS, the Entrepreneurial Operating System, combines timeless business principles with a set of simple, practical, real-world tools to help entrepreneurs get what they want from their businesses.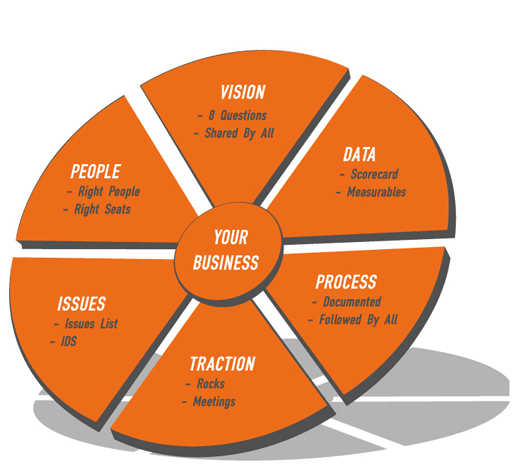 Measure Your Progress with the Organizational Checkup™
See how well you're doing as an organization. Complete this 20-question survey to get a snapshot of where you are on the journey between 0 and 100 percent.
At the end of the survey you'll get a score for your business and valuable recommendations to help your organization get stronger.
Complete the Organizational Checkup™ at least twice a year to see how you're progressing as an organization. You'll find the gaps between where you are and where you want to go, so you can address issues and enjoy the journey more!
How can I help?
Whether you are just curious about EOS, are a self-implementer, or need a Professional EOS Implementer™, I got into this business to help.  Let's talk.