Welcome to Springboard Solutions. 
Emerging stronger from these current challenges is possible!  Take a moment to hear these 3 BIG ideas to fuel your company for growth. What do you want your business to look like at the end of the next quarter? Could these ideas help accomplish that vision? Take a quick listen.
Start a Course with EOS
Frustrated by lack of control, employees who don't follow through, and inconsistent profit?  I work with entrepreneurial leadership teams to grow faster, increase profits and eliminate frustrations.
The system of tools and disciplines I implement brings tangible results, accountability, and peace of mind to business owners as they scale.
The Entrepreneurial Operating System® (EOS®) is for those ready to experience clear vision, gain consistent traction, and advance as a healthy, cohesive team.
Learn More
The first step towards experiencing vision, traction and healthy with your team is a 90 Minute EOS Workshop to see what EOS is and how it works.
Request Meeting
Share EOS tools and disciplines with your business, professional organization, or roundtable group with a customized speaking engagement.
Book a Talk
EOS is simple,         not easy.
Master the content.
EOS, the Entrepreneurial Operating System, combines timeless business principles with a set of simple, practical, real-world tools to help entrepreneurs get what they want from their businesses.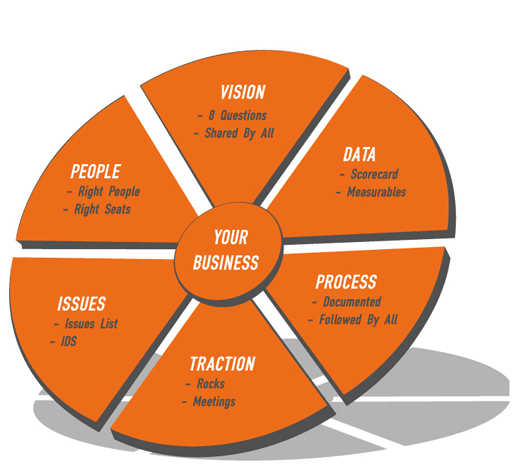 How can I help?
Whether you are just curious about learning more, or already know you need a Certified EOS Implementer™, I got into this business to help.  Let's talk.